We had a playdate yesterday right up the road from where we live! It was time for Monkey Joe's! (see, we don't always have education on the brain!! we know how to have fun! haha). We met up with 2 of their best friend's and had an absolute blast! Do you see how empty this place is?! We had it all to ourselves for the 5 hours we were there!!
They had all the video games on free play and the kids had so much fun! Isn't it amazing what having a few friends, an empty game room and 8 inflatables all to themselves will do! The smiles didn't stop and everyone had rosy cheeks!
They could each have a bounce house to themselves and there would still be empty ones! They liked hanging out boys in one and girls in the other! All in all, these inflatable places get a thumbs up when WELL CARED FOR and Empty!!!
Join us! Snag Our Button and pop it into your post!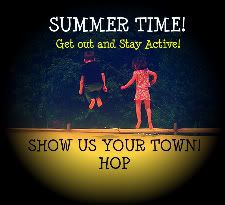 Missed my other posts?
WEEK 1 The Waterpark!
WEEK 2 The Zoo!
WEEK 3 Berry Picking
Week 4 Splash Park
Week 5 Children's Museum
Week 6 The Field Museum
Have You Added Me Yet?