Hi everyone!! Hope you have had an excellent day. As many of you know, we have been on a virtual vacation this Summer, making
stops all over the globe
! This has been an absolute delight for all of us involved, not to mention the BEST learning experience. With Summer coming to a close, we are not ready to give up our travels! This is where our next project begins! We are asking if you could send us a postcard from where you live, where you are on vacation, places you love, anything at all.
Jot us a note about anything at all, mention your location if it's not stated on your postcard and send it off! We will research the location, learn some new things and maybe even a craft too! We will do a blog post, featuring the front of your postcard and all we learned. If you include a return address on the back, we will write you back too and give you some information on where we are from and who we are!
We can't wait to add your location onto our map of travels! Real and Virtual, we pin them all if we have learned something there. This is a fantastic lesson in map skills and so many other things the inspire creativity and create memories that will certainly last a lifetime!
Ready to send us a postcard? Just send me an
E-mail
and let me know, I will let you know my address and you can get writing, so we can get learning and then get writing too! A lesson in every subject going on here! Care to join us in Project Postcard? Let me know and I will add a link to your blog post about it here, so that people that want to send cards can visit your site too!!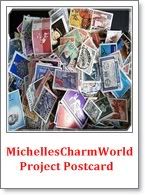 Grab a Button and Let's Get Some Postcards!!!
Have You Added Me Yet?