It's time for another day of fun with recyclables! Today, we realized that school is right around the corner and it was time to get organizing. I will have 2 kids in the same school this year, instead of 3 kids in 3 schools! For the 2 older kids, I wanted a way to organize their folders and school papers as soon as they walked in the door.
We went through our boxes and selected 2 cereal boxes and cut off the tops evenly. Then wrapped then in Kraft paper like a present, leaving the cut top completely open. My kids painted the Kraft paper first, but you don't have to. After I wrapped them all, I let the kids decorate the insides and outsides as they wished and then glued them together! All set and ready for school to start! Have you upcycled anything lately?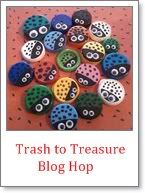 Have You Added Me Yet?