Every week I like to try out new and fun tools to make the tray fun and different the previous ones. This week I only have my preschooler at home, so it was only 1 tray I had to make up as opposed to 3! I wanted to go with a theme, but little hands were helping me, so he was just pulling out what he wanted!
This week, I used a crinkle cutter, paring knife and small scissors (to open up packages without tearing them) and a small cutting board. I like to keep all my lunch items handy on a tray in my work space, so I never have to hunt around for items when I need them! This cuts down on time by so much!
Today we served up a fun array of goodies that Roman and Mommy shared together to have the most delightful lunch! You see it on a pink tray, because we carried it outside to sit under a tree and read together as we nibbled. It was a wonderful afternoon of fun!
Tray Food Top Row: Carrots, Cucumbers and Cherry Tomatoes (Garden picked!), Celery, Cheese Sticks, Crackers and Chicken! (Can you tell I went with a C theme, until the little one asked to help!!)
Bottom Row:
Fruit Snacks, Clementines, Bananas, Apples & Raspberries (Freshly picked!) and watermelon! YUM!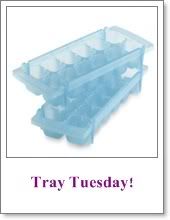 Did you create a fun lunch for Tray Tuesday?! Link up and join us! Presentation is everything when it comes to little ones, get them eating new and fun foods all while having fun! Snag a button, pop it in your post and join up!