Hello again! I am starting a new weekly post on Tuesdays, called Tray Tuesday. As you can see from my photo above, this is pretty much making up a meal that all fits in the slots of an ice cube tray! I'm a huge fan of making meals fun. With children, presentation is everything, if you show them food served up in a fun way, they get more excited to dive right in! Check out that little hand in there trying to sneak something as I am setting up.
Today's tray features many goodies, presented from Left to Right: Animal Crackers, Apples, Grapes, Strawberries, Vanilla Yogurt with Cinnamon, Raspberries, Animal Crackers, Apples. Bottom Row: Pretzel Rods, Cheese Cubes, Carrot Sticks, Bread Slices, Ham Rolls, Raisins, Fruit Snacks, Strawberries.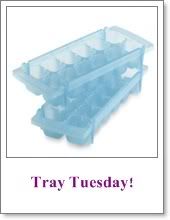 All you need to do is serve up a Tuesday Tray, photograph it and share what is inside! This way we all get ideas on what we could put in for next week and it drives viewers to our blogs! This will be a linky post every Tuesday, all you need to do is post and add the button above. If you are interested in being a co-hostess, I will add your blog button to my sidebar of my blog AND will feature a link to your blog every Tuesday with this post. Please only join if you can commit to doing this every week! Please post this intro and button on your blog today to spread the word!!

Have You Added Me Yet?